>> we love to ride and so we're motorcyclists first and gay second <<
Evan's "Photography Tour" Ride - on Sunday 15th October 2017
time to our next dinner & meeting
Meeting @ Royal Mail Hotel on 10th October 2017 @ 7-15pm
rides since 1990
2017 is our 27th year as a club and we've clocked up many rides since 1990 and we're looking forward to many more years of rides! Here's the current count…
our next ride
Evan's "Photography Tour" Ride
First Meeting Spot: Meet at South of Johnson Cafe, 46 Oxford St, Collingwood at 9;30am
Second Meeting Place: No second meeting place
Details:
Dust of those cameras, get those bikes polished and get the nice leathers on for the photoshoot tour!
We're gona practice using our cameras in some ace spots around melbourne and the ride will take in some great scenery at Plenty Gorge and Yan Yean.
our next meeting
Next Meeting is on Tuesday 10th October 2017
We hold a dinner and our meeting every month on the second Tuesday of the month at the Royal Mail Hotel at 519 Spencer St, West Melbourne.
If you are thinking about joining up then this is a good place to start. Everyone is welcome to join us at our next meeting…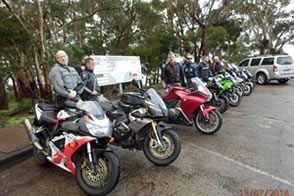 our members
We have members of all ages and from all walks of life. The one thing that we all enjoy is to ride! Our current membership numbers are below:
>> read some of our ride stories <<