>> we love to ride and so we're motorcyclists first and gay second <<
time to our next dinner & meeting
rides since 1990
2016 is our 26th year as a club and we've clocked up many rides since 1990 and we're looking forward to many more years of rides! Here's the current count…
our next ride
Stephano's "GOR" Ride on Sat 10th & Sun 11th September 2016
A weekend ride down to the Great Ocean Road and surrounding countryside – and who would not enjoy that!! Note that there will be only one meeting point for this ride and that is at the Shell Servo that is just off the Geelong Freeway near the Laverton Exit at 9-30am on Saturday 10th September.
We'll be staying overnight in Port Campbell and there are lots of accommodation options available there – see this list on Trip Advisor –https://www.tripadvisor.com.au/Hotels-g261662-Port_Campbell_Victoria-Hotels.html –
We'll be getting together on the Saturday night for a big cookup somewhere so make sure you contact us if you want to come along and we can let you know where people are staying.
our next meeting
Next Meeting is on Tuesday 13th September 2016 – We hold a dinner and our meeting every month on the second Tuesday of the month at the Royal Mail Hotel at 519 Spencer St, West Melbourne. If you are thinking about joining up then this is a good place to start. Everyone is welcome to join us at our next meeting…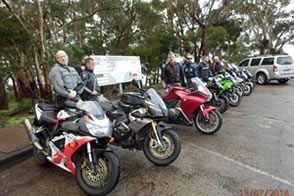 our members
We have members of all ages and from all walks of life. The one thing that we all enjoy is to ride! Our current membership numbers are below:
>> read some of our ride stories <<