>> we love to ride and so we're motorcyclists first and gay second <<
David's "Very First MMT Relay Ride" - Who Knows Where We'll Go - from 10am on Sunday 16th July 2017
find out all the details
time to our next dinner & meeting
rides since 1990
2017 is our 27th year as a club and we've clocked up many rides since 1990 and we're looking forward to many more years of rides! Here's the current count…
our next ride
David's "Very First MMT Relay Ride" – Who Knows Where We'll Go!
NOTE: no inner city meeting place for this ride so just make your way to Sunbury.
Event Date:
Sunday 16th July
Commencing:
Meet at the Shell Service Station (Coles Express) 1 Horne Street, Sunbury at 10am. Please note that there will be no South Yarra pick up.
Details: 
Be a part of history and join us on MMT's very first Relay Ride on Sunday 16th July.
OK, here's how it will work: David P will lead the ride to our first destination. From there a new ride leader will take over and head in any direction they wish until they announce a new Ride Leader. This process will continue until the current Ride Leader ends the ride. Lunch will be wherever we are at lunchtime at the Ride Leader's discretion.
This should be a lot of fun. Who knows where we'll end up!
our next meeting
Next Meeting is on Tuesday 8th August 2017
We hold a dinner and our meeting every month on the second Tuesday of the month at the Royal Mail Hotel at 519 Spencer St, West Melbourne.
If you are thinking about joining up then this is a good place to start. Everyone is welcome to join us at our next meeting…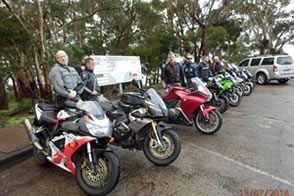 our members
We have members of all ages and from all walks of life. The one thing that we all enjoy is to ride! Our current membership numbers are below:
>> read some of our ride stories <<