THANK YOU FOR YOUR YES!!
Thank You Melbourne – 84% YES
Thank You Victoria – 65% YES
Thank You Australia – 62% YES
>> we love to ride and so we're motorcyclists first and gay second <<
Peter Ha's "Almost Summer" Ride - on Sunday 19th November 2017
time to our next dinner & meeting
Meeting @ Royal Mail Hotel on 12th December 2017 @ 7-15pm
rides since 1990
2017 is our 27th year as a club and we've clocked up many rides since 1990 and we're looking forward to many more years of rides! Here's the current count…
our next ride
Peter Ha's "Almost Summer" Ride
MEETING PLACES:
FIRST: Cafe Metsa: 345 Victoria St, West Melbourne Vic 3003 – Dept. 9:30am
SECOND: BP/Red Rooster service station: cnr Thompson Rd & the Western Port Hwy (M780) Lyndhurst – Dept. 10:30am
DETAILS:
We will be heading out East through the Gippsland Ranges taking in the Bass Coast, Inverloch, Middle and Lower Tarwin (but couldn't find Upper) and Walkerville. Heading back through Meeniyan and Drouin. It will be a fairly lengthy ride being close to summer and daylight saving.
Come along and have some fun – Riders of all experience welcome at all our rides.
our next meeting
Next Meeting is on Tuesday 12th December 2017
We hold a dinner and our meeting every month on the second Tuesday of the month at the Royal Mail Hotel at 519 Spencer St, West Melbourne.
If you are thinking about joining up then this is a good place to start. Everyone is welcome to join us at our next meeting…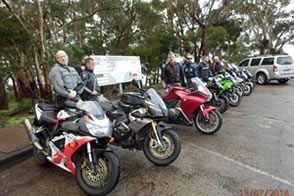 our members
We have members of all ages and from all walks of life. The one thing that we all enjoy is to ride! Our current membership numbers are below:
>> read some of our ride stories <<